Ever since Google's signature email program first hit the web in 2004,  the company sought to make the onerous task of sorting through email correspondence easier and more automated.
But email has become something much bigger and performs many functions in our lives, from alerts to online receipts to transferring and storing important documents to being a daily task manager.  For many people, email has become simultaneously useful and very annoying.  So two years ago, Google's Gmail team decided that Gmail needed an overhaul.
Presenting Inbox, the radically different long-term replacement for Gmail.
Yes, replacement.  Google Inbox isn't an upgrade to Gmail.  "Though Gmail isn't going anywhere — Inbox's creators stressed that they love Gmail and that Google plans to keep working on it — Inbox is meant to be your email system for the next decade," wrote Farhad Manjoo of the New York Times, who got an exclusive one-on-one demo of this new product.
Inbox does away with the familiar email user experience of a list of senders and subject lines and features a social-media-esque aesthetic.  Users can view previews of messages and access highlighted content without ever opening the messages themselves.  For example, Manjoo writes, "When your friend sends you some photos, you see the pictures right on the main screen, and you can flip through and dismiss them without going into the message."
From giving users updates and relevant details on flights, purchases, and appointments via data-mining the internet, Inbox aims to make it easier to keep track of important information without ever needing to dig through your email archives.  Inbox can also give users reminders about appointments or tasks on to-do lists.  The example Manjoo gives is if you type "call my dentist", Inbox will automatically add your dentist's contact information and office hours to the reminder.
There are mixed feelings among the tech press and general public regarding this social-media-inspired Gmail replacement.  It'll be interesting to keep an eye on Inbox after its release and how well it functions.
Google has not announced an official launch date yet for Inbox but it is expected that early versions of it will be released for Android, iOS devices, and the web on an invitation-only basis.
---
Looking for a solution?
Logic Solutions can help you design the solution that you want to share with the world. Let us create the innovative mobile apps, websites, eCommerce, or healthcare solutions you need to stand out.
Find your perfect solution
---
---
---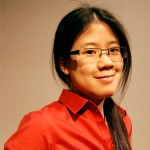 Jennifer Pan is a marketing coordinator at Logic Solutions. If you want to get her attention, try talking to her about d20s, (board) games, sci-fi and geeky references, or cute animal videos…or all of them at once. Just don't bring up her uncanny ability to roll natural 1s.