Available for $35/user monthly subscription; includes mobile catalog and order taking, content management
FOR IMMEDIATE RELEASE—February 18, 2013—ANN ARBOR, MI—Logic Solutions announces the launch of the SaaS version of Showcase Mobile Sales System.  Showcase consists of a mobile app for iPad and a Content Management System (CMS) that provides a mobile solution for companies to display and sell products.
The Showcase SaaS version is available for a monthly subscription of $35/user. The subscription comes with web access to the CMS, where an administrator manages product and catalog information, sales literature files, imagery (including company branding of the app), customer data, placed orders information, and user permissions.
The app consists of modules:
Catalog—a company's product catalog with images, pricing, and comparison tables
Customer—a customer contact list
Quote/Order—the order entry system that also creates email and pdf versions of a quote or order to provide the customer
Sales Library—a mobile library of sales literature, including pdf documents, PowerPoint and Keynote presentations, and videos
Sync—the two-way sync with a company's CMS
All modules except Sync function while offline, allowing a user to complete a sale without Wi-Fi or other wireless Internet access. The app saves orders locally, until the user has connectivity to sync them with the CMS.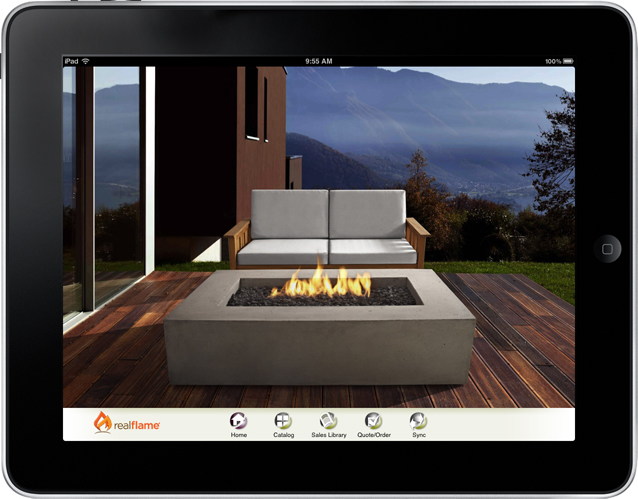 Early adopters include Real Flame, makers of ventless gel fireplaces and accessories; Screamer, Inc., manufacturers of high performance hats; and Argent Tape and Label, manufacturers of custom-printed media and industrial tape products.
"Our pipeline of requests for mobile projects is now just as large as the interest in web application development," states President Bruce Richardson. "Businesses are looking for ways to save time and money while still joining the mobile technology revolution. Showcase is the perfect app to help a company achieve those objectives, no matter the size of its sales force. We expect our mobile development practice, including Showcase, to triple again in 2013, as it did last year."
Interested companies can sign up for Showcase by visiting www.showcasecloud.com or emailing showcase@logicsolutions.com.
Logic first introduced Showcase for enterprise in January 2012, attracting companies such as Maui Jim Sunglasses, while developing the SaaS model throughout that year.  Official SaaS release occurred December 2012.