Source: Egrig
Email is messy.  For many people, managing cluttered inboxes, promotional offers, and spam is an arduous task.  And that one message you received weeks ago with a very important appointment reminder but you don't remember who sent it or what the body of the message contained?  Good luck wading through the rubbish to try to find it.
Over the past couple of months, a number of companies have announced an alternative to email overload.  Their goals are simple: make it easier for users to find important messages and increase productivity.  Google, Dropbox, Microsoft, and IBM all approached the email overload challenge from different perspectives and have come up with (what they think) is the solution to all of your inbox woes.
Here is a quick rundown of what these tech giants have to offer.
Google Inbox
Inbox is Google's long-term replacement for Gmail.  It does away with the familiar email user experience and replaces with with a social-media-esque aesthetic.  With its icon-driven interface, Inbox aims to not only make it easier to follow email conversation threads (and archive the ones no no longer need) but to also keep track of important information, such as appointments or tasks on to-do lists.  Users can "pin" priority messages to the top of your email list, be snoozed to reappear later at a specific date and time or even once you've reached a specific destination, and then archived to keep your inbox free of visual clutter.
Google's algorithms also predict which emails you're less likely to read, such as store sales promotions and social media updates, and bundles them together as Low Priority.  Inbox also lets users customize their email filters to best optimize what messages are more or less important.
Inbox has received much critique so far for its different user experience.  Fortunately, it is still in beta and limited to invite-only users, thus allowing developers to continue smoothing out wrinkles prior to opening it up to the whole public.
Dropbox Mailbox
In early 2013 Dropbox acquired Mailbox, the popular email app originally for iOS devices, and has since released not only Android and desktop versions, but also some new features.
The cloud storage company gave Mailbox an Auto-swipe feature, which allows the app to learn about the emails the user archives and defers until later.  The app can then act appropriately when similar missives hit the inbox in the future.
The desktop edition of Mailbox is currently still in beta and has an unknown official release date.
Microsoft Clutter
Clutter is an inbox tool for Microsoft Office 265 business customers that help users prioritize email within Outlook.
Like Google's Inbox, Clutter learns to weed out messages the tool thinks you're more likely to ignore while placing more important emails on top.  It separates unwanted emails into a designated "Clutter" folder that can be viewed at any time without taking space in your main inbox.
What if you're working on a new project or a new role?  Clutter can learn and adapt to a user's new patterns too, according to a blog post.  "The Clutter experience is personalized to each individual and reflects an email experience that adapts to your actions and preferences without you having to do anything. The information Clutter learns from each user's actions [is] only applied to that user's experience and are not shared with anyone else."
Clutter can also be disabled or enabled through the options menu of the Outlook Web app.
At the moment, Clutter is only available to business customers.  Microsoft currently has no plans for release to non-business users.
IBM Verse
Verse combines Big Blue's cloud, analytics, social, and security technologies in an enterprise email solution.
IBM's answer to Google Inbox and Microsoft Clutter analyzes each user's social connections, activities, correspondence patterns, and tool usage, and uses that data to personalize each user's experience.  It integrates the many ways employees connect each day – via email, meetings, calendars, file sharing, instant messaging, social updates, video chats, and more – in a single collaboration environment.  By overlaying the concepts of social, collaboration, and communications with analytics, Verse helps users to better understand relationships between individuals and teams, and more effectively track and manage project and task delegation.
By making multiple tools, such as email, calendar, to-dos, social networks, cats, online meetings, and documents accessible at a glance, Verse is able to learn about  a user's important tasks and correspondence, and subsequently deprioritize less items of lower importance.
Verse is currently available in beta and will be offered to channel partners in the first quarter of 2015.
And cats make getting any work done almost impossible.
---
Looking for a solution?
Logic Solutions can help you design the solution that you want to share with the world. Let us create the innovative mobile apps, websites, eCommerce, or healthcare solutions you need to stand out.
Find your perfect solution
---
---
---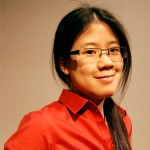 Jennifer Pan is a marketing coordinator at Logic Solutions. If you want to get her attention, try talking to her about d20s, (board) games, sci-fi and geeky references, or cute animal videos…or all of them at once. Just don't bring up her uncanny ability to roll natural 1s.