Interactive fashion label CutieCircuit created interactive jackets for rock band U2.
The digital revolution began in the 1950s with the transformation and transposition of analog and mechanical activities to digital ones.  Today, the reverse tendency is becoming more apparent as virtual technology merges with the physical world. It's resulted in a new word: phygital.
Phygital is about creating an ecosystem between the brand and consumer across physical and digital spaces, then drawing on the best from both in order to expand beyond a one-dimensional brand communication. There are already many technology-driven phygital devices that users can interact with such as QR codes, augmented reality, 3D, Sixth Sense, Google Glass, Apple Watch.
Tesco's Virtual Store
For example, consumers in South Korea can order their groceries while standing on a subway platform by interacting with "shop-like" display walls that emulate the real world shopping experience.  Consumers scan the QR code of the product they'd like, the item is automatically added to an online shopping cart, and, after paying, shoppers will find a bag of groceries on their doorstep.  Tesco's Homeplus pioneered this virtual supermarket and saw an increase of 76% in online shoppers and 135% in online sales.
Phygital storefronts like Homeplus' bring a whole world of opportunities to businesses.  Digital stores enable companies to set up in unconventional locations because they do not require significant real estate.  Temporary pop-up stores are easy to set up, tear down, and transport.  They need no inventory or staffing (except for the periodic technical support).  And stores with a physical presence can continue selling products even after business hours.
But phygital isn't just about marketing and retail.  Wearable technology like Google Glass and Apple Watch allow people to bring their technology with them wherever they go.  Zombies, Run! is an immersive smartphone running game that attempts makes exercising more fun.  The creative, apocalyptic tale tells a story of zombies chasing after the listener, motivating the exerciser to run away from the flesh-eating undead.
Street Eraser
Source: Street Eraser
Phygital technology can also add a new dimension to visual and performance art.  In spring of 2014, two artists stuck giant "Street Erasers" (Adobe-inspired grey-and-white-checkerboard shapes that resemble the eraser tool in Adobe Photoshop) to London's urban environment to reveal a blank Photoshop canvas under the surface of everyday objects.
In the summer of that year, London's Barbican Centre opened the Digital Revolution exhibit as an exploration of humankind's digital achievements.  Exhibit attendees can interact with a 3D laser light field, see the future of wearable tech, or revisit classic video games.
The world of phygital is endless and so are the opportunities it presents.  By blending storytelling, entertainment, fun, and utility into a device or activity, consumers can become a part of the phygital experience itself.
Looking for more examples of phygital technology? Check out these links:
---
Make Phygital Work For You
The bridging between the physical and digital worlds is becoming more common and the possibilities are endless. Logic Solutions can help you make your dream become a phygital reality. Let us create the innovative mobile apps, websites, eCommerce, or healthcare solutions you need to stand out.
Find your perfect solution
---
---
---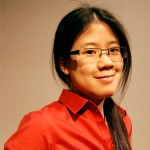 Jennifer Pan is a marketing coordinator at Logic Solutions. If you want to get her attention, try talking to her about d20s, (board) games, sci-fi and geeky references, or cute animal videos…or all of them at once. Just don't bring up her uncanny ability to roll natural 1s.