Amazon just launched its first smartphone, Amazon Fire Phone.  I am assuming that if you're here on the internet, you've heard about it. One of its lauded innovations is "Dynamic Perspective", a custom-designed sensor system that uses four tiny cameras on the face of the phone to detect your human face (and also how you hold and move the device) and react accordingly. For example, you can launch a navigation menu by physically tilting the phone, something that previously required tapping a button.
The Fire Phone also has Mayday, a free live tech support feature. With Mayday you can access a live Amazon expert via video at ANY time (Amazon aims to respond in 15 seconds or less). He or she will even be able to remotely "draw" on your device screen to help you through an issue.
There are many more new features like Firefly, total Prime integration, and FireOS that are all covered on Amazon's product listing – and on innumerable posts elsewhere. Since I haven't held one myself, I won't pretend to have any unique insights about the device, but I can point you to some interesting opinions of others around the interwebs:
 "It's really great, but people will quickly tire of the bells and whistles"
Wired offers a thoughtful piece on why Amazon's new innovative usability might be "too magical for its own good." Beyond the review of Fire Phone, I really appreciated this bit of wisdom: "The biggest challenge of modern UI design is knowing when to stop. We have the ability to make every single moment sparkle and dance, so the new task is learning to restrain ourselves, and it's hard. Most of a good user experience is forgotten, because well-designed often means forgettable…"
"You thought you were worried about 'big brother' before…"
Joshua Kopstein's title "Amazon's new phone is not your friend" (Al Jazeera America) is pretty clear. Kopstein addresses concerns about the company's overreach in merchandising and double-charging, and the potential for unprecedented spying.
 "Like Apple before it, Amazon is pretty smart for AT&T exclusivity"
ZDNet's James Kendrick discusses the upside of sticking to one carrier at launch, especially concerning update control.
"BE OFFENDED."
Ok, I just made PC Mag's Seamus Condron sound like a troll, but in all fairness, his post's subheadline is "Would you pay $650 for a glorified price scanner? Neither would I." He pulls no punches. A friend recently said to me, "People just LOVE to be offended," so if that's your thing, read this.
---
---
---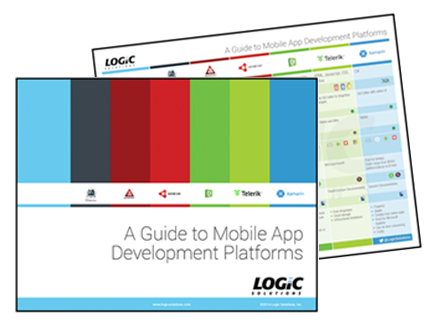 FREE DOWNLOAD: A Guide to Mobile App Development Platforms
Compare the pros and possible limitations of top six mobile development tools on the market.
Download Now
---
---
---
Angela Kujava is the Director of Innovation and Chief Smoothie Officer at Logic Solutions. She is an ardent supporter the Oxford comma, and will challenge you to a duel if you believe the contrary. Should you find yourself about to duel Angela, it is valuable to know that her kryptonite is Doritos. She cannot avoid their salty, orange siren song.