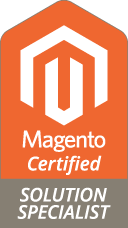 FOR IMMEDIATE RELEASE—DEC 3, 2014—ANN ARBOR, MI—Logic Solutions' technical lead Bill Xu recently passed the Magento Solution Specialist exam and brings to the local Ann Arbor firm additional specialization in the eCommerce platform. At the time of reporting, Xu is now one of fewer than two dozen certified Magento professionals in the state of Michigan.
Magento is one of the largest, most prominent open-source commerce platforms worldwide. To become a certified Magento professional, individuals must attend rigorous training and pass an examination designed to prove a thorough familiarity with the platform's technology and functionality.
A Magento Certified Solution Specialist has a deep understanding of Magento architecture (layouts, themes, extensions, customizations, and data models), various elements of a Magento eCommerce site (e.g. catalog, shipping, payment, order processing, promotions, extensions, import/export), and the application of Magento knowledge to business goals, such as mapping client needs to Magento features and recommending the most effective options for implementing client requirements.
After experiencing a significant uptick in demand for eCommerce and mCommerce development, Logic Solutions expanded its eCommerce group in 2013. "Bill really embodies the spirit of excellence that we strive for on each and every project. We're very proud to have him on our team," said Bruce Richardson, President.
For more information on Logic's eCommerce practices, visit https://www.logicsolutions.com/ecommerce-development/
About Logic Solutions
Logic Solutions is an international, privately held development firm headquartered in Ann Arbor, Michigan. With a team of 200 experts in six offices worldwide, Logic provides eCommerce solutions, custom software, websites, and mobile application development. Visit www.logicsolutions.com for more information.