The Internet of Things (IoT) market was worth more than one trillion dollars as of 2013, according to MarketWatch. But what the heck is it?
Here's a short definition: "(IoT) is a concept in which objects, animals or people are connected to each other and have the ability to automatically transfer data over a network without the need to human-to-human or human-to-computer interaction." (WhatIs.com)
Okay, so that definition is still a little confusing. Let me a paint you a picture instead:
Your phone alerts you of a traffic accident on your way home and reroutes you around it. When you arrive at home, the garage door automatically opens and closes behind you. As you enter your home, your thermostat adjusts in temperature to your preference. Your oven begins preheating because you Googled "how to make a roast" earlier in the day. Even your dog is automatically let out of his kennel and is now free to roam about the house.
Image credit: Business Insider
This is the Internet of Things – a world that is connected and efficient through the use of intelligent devices.
IoT is more than just a bunch of pretty devices talking to each other and making your life easier, though. Devices in this field have a serious, positive impact on the world. The city of Cincinnati implemented an IoT solution recently to combat its waste problem. The result was a 17% increase in recycling and a 49% reduction in residential waste.
Additionally, the McKinsey Global Institute predicts the U.S. could save between $200-$500 million dollars in energy costs by 2025. As we mentioned earlier, the industry is already worth a trillion dollars. That number is supposed to increase by 40% by 2020.
In this era, it's imperative we think of business solutions outside of web and mobile devices also. Sometimes The Internet of Things is a simple solution you use at your office, with your employees – like shades that automatically dim to save on air conditioning costs. There are also many possibilities with IoT devices for a company's services and products as well. Innovative examples include iBeacon and Nest.
If you're still a little confused, we hope this commercial clears up the confusion.
---
The Future Is Now
Science-fiction things of the past are actual pieces of technology today. We at Logic Solutions aim to harness these new futuristic gadgets and use them to help you grow your business. Let us create the mobile apps, websites, or healthcare solutions that you need to stay on top of the times.
Find your perfect solution
---
---
---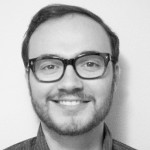 Pierce Courchaine is a marketing coordinator at Logic Solutions. When he's not in the office, he's rumbling around the country in a 1996 Honda Civic he lovingly named Martha. Martha's air conditioning doesn't work anymore, her power locks failed, her back left window doesn't open and her 106 horsepower has made for some heart-pounding races against Vespas. For some reason, he's the only one who can see what's special about her.