Image credit: webgreeter.com
On Tuesday, Apple and IBM announced a landmark partnership to create more than "100 industry-specific enterprise solutions including native apps" and sell Apple mobile devices (iPhones and iPads) to IBM's corporate customers.
The press release states:
The new IBM MobileFirst for iOS solutions will be built in an exclusive collaboration that draws on the distinct strengths of each company: IBM's big data and analytics capabilities, with the power of more than 100,000 IBM industry and domain consultants and software developers behind it, fused with Apple's legendary consumer experience, hardware and software integration and developer platform. The combination will create apps that can transform specific aspects of how businesses and employees work using iPhone and iPad, allowing companies to achieve new levels of efficiency, effectiveness and customer satisfaction—faster and easier than ever before.
We've long complained that Apple tends to ignore enterprise customers (a few years ago I was especially vocal with one Apple rep about the lack of support for enterprise mobile apps), so it will be very interesting to see how this shakes out…and what it holds for Android and the beleaguered BlackBerry.


Want to learn more about mobile development? Logic Solutions can help you strategize your mobile game plan!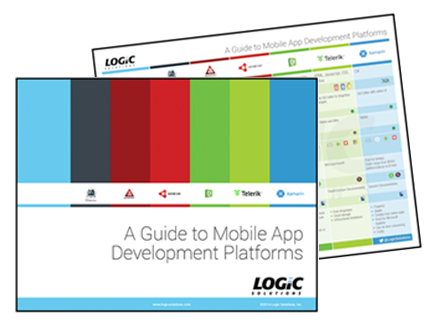 FREE DOWNLOAD: A Guide to Mobile App Development Platforms
Compare the pros and possible limitations of top six mobile development tools on the market.
Download Now
---
---
---
Angela Kujava is the Director of Innovation and Chief Smoothie Officer at Logic Solutions. She is an ardent supporter the Oxford comma, and will challenge you to a duel if you believe the contrary. Should you find yourself about to duel Angela, it is valuable to know that her kryptonite is Doritos. She cannot avoid their salty, orange siren song.